filipino Cuisine
Serving a taste of the Philippines
A DESTINATION
Celebrating and serving fresh, authentic Filipino flavours, Mama's Kubo is a restaurant and cafe based in London's West Hampstead area.
We offer you the Filipino 'hygge' experience with style, sincerity and wholehearted warmth.
Tuloy po kayo sa Mama's Kubo
Welcome to Mama's Kubo

WEEKLY OFFER
Enjoy 10% off your food order every Tuesday & Wednesday [not applicable on delivery orders]
Our lunch set menu is now available, please check the details here
Homemade flavours from the Philippines
'Kubo', is the Filipino word for a 'thatched hut'. Therefore, the literal translation is Mama's hut. The dishes are inspired by the food that mothers and grandmothers lovingly cooked for their families. Naturally, the Chef has also infused the dishes with his own signature flavours, for instance, the Palabok noodle dish [pictured, bottom centre].
Filipino cuisine is mainly a smorgasbord of Spanish, Chinese, Malaysian and Indonesian influences, with a dash of American pastiche. As a former colony of Spain in the 15th century, the Spanish influence strongly infuses several dishes, such as longaniza, akin to chorizo; apritada/afritada - chicken or pork and vegetables simmered in tomato sauce]; adobo - chicken or pork braised in garlic, vinegar, oil and soy sauce.
Its geographical location in South East Asia, is responsible for the culinary narrative of the other neighbouring countries. For instance, kare-kare - oxtail and vegetables stewed in peanut sauce [pictured, top right] has been inspired by the Malaysian satay dish, while the pancit guisado derives from the Chinese stir fry noodles. Filipino cuisine centres around the combination of sweet (tamis); sour (asim); and salty (alat); although in Bicol, the Cordilleras and among Muslim Filipinos, spicy (anghang) is a base of cooking flavour.
celebrate pinoy food
@mamaskubo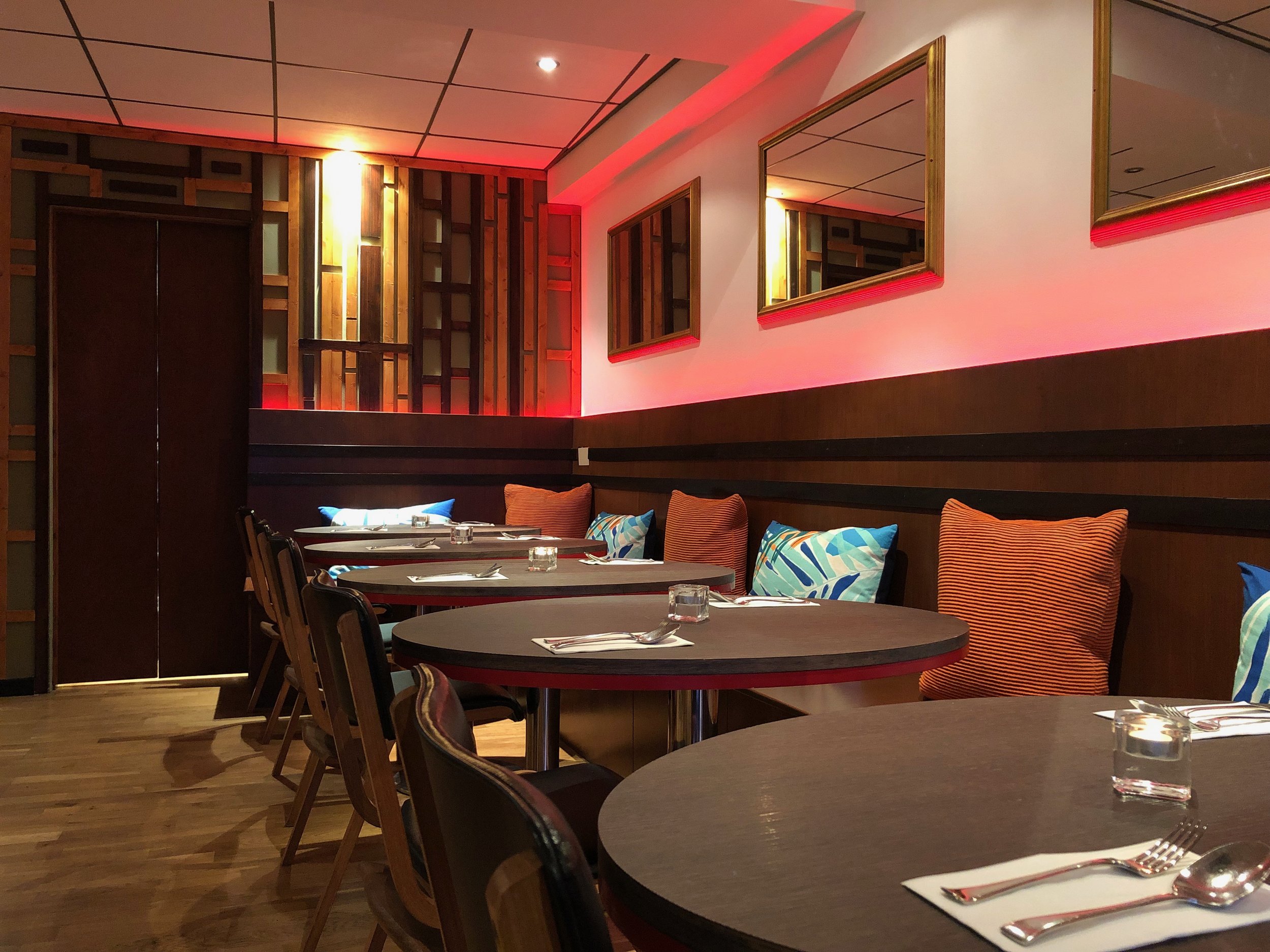 ROMMEL BUSTARDE
THE CHEF & DIRECTOR
Chef & proud owner is Rommel Bustarde, a British Filipino who has been in the restaurant industry for over 30 years. He honed his skills by working for the maverick & groundbreaking restaurateur, Alan Yau for over 20 years.
He began sharpening his knife in Wagamama in the 1990s, followed by Busaba, Naamyaa, Babaji Pide & Yamabahçe, all of which are Yau creations. His chef training began as a Commis Chef in Wagamama in the 1990s, and impressively progressed to Head Chef in Busaba, heading up kitchen operations for 11 outlets, then as the Director for kitchen operations in Babaji Pide.
This talented and instinctive chef has carved several notches under his apron by learning entirely new cuisines on the get-go. Japanese dishes @Wagamama, Thai cuisine @Busaba, Turkish food @Babaji Pide. Now finally, he can focus on the cuisine from his original heritage.